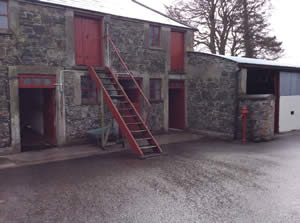 GREEN POLICY STATEMENT FOR THE HILL COTTAGE.
Ever since 1970 when we came to live in this old 1800s farm we have been very careful to preserve the beautiful stone stables and the farm house, these are now "listed" buildings. The farm has 50 acres which are grazed and under the DARD Countryside Management Scheme to encourage wild life and birds.
We have planted nearly 8 acres of native tree woodland and replaced an ancient orchard with Irish Apple trees. Guests are encouraged to explore these and are welcome to pick some apples when they are ripe. We are working with the RSPB to improve the bird life on the farm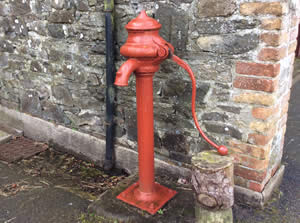 The cottage was converted in 1990 from what had originally been the cow byre and when we came was being used as a garage with an asbestos roof! We were very committed to preserving local heritage and rather than demolish the building(a cheaper option) we kept the old stone building, even getting a local stone mason to do some work. We roofed the house with traditional "Bangor Blue" slates and put in the recommended insulation.
The addition of the flat roof section to the front of the building allowed access to the different rooms and had the added benefit of plenty of South facing double glazed windows which helps to heat the cottage. We put in electric storage heaters that are on an off peak heating tariff. A wood burning stove burns wood from our own fallen trees.
In 2009 we put a wind turbine on top of our hill, which provides electricity for the main house and in 2012 we put photovoltaic panels on the cottage roof providing electricity for it. These were so successful that in 2013 we put further panels on the farm building roof as well. The surplus is sold to the the electricity board. We have now replaced all our light bulbs with low energy bulbs and Led lighting. Our carbon foot print has been rated as excellent.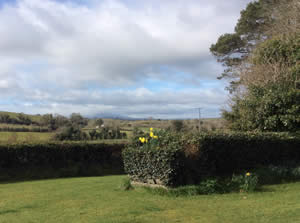 Our water comes from the Mourne Mountains and is of excellent quality, guests do not need to buy any bottled water! As a farm we have a water meter which also includes our house and the cottage. We do not use our full allowance, but will continue to search ways to reduce our water use. Rain water tubs collect water for garden use.
As much as possible of our household and cottage waste is recycled and we ask our guests to help with this and put all rubbish in the correct bins. This year we have extended the opportunity to guests to use our compost bin. Also any bed linen, towels, cutlery etc no longer used in the cottage are sent to a Charity shop. These as far as possible are being replaced by Fair-trade products and organic cotton sheets.
As part of our Green Policy we wash all the bed linen and towels using eco friendly washing powder and dry without using a tumble dryer. Eco friendly dishwasher, washing up liquid, hand soap and toilet rolls are provided for guests' use.
We encourage our guests to explore our local area, we recommend cycle rides (starting from the cottage) and interesting places to visit.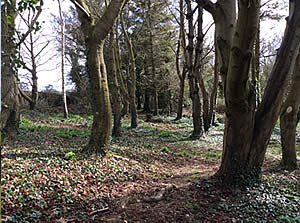 We have cut paths in our woods for guests and information about birds, wildlife and flora to look out for.
Guests can also enjoy seeing our Connemara ponies and usually a foal or two! There is a good shed for guest's bikes where swallows nest, known as "The Swallow House"!
We have a list of local shops including those selling local farm produce and information about interesting craft shops nearby, also a list of restaurants and encourage our guests to make good use of all our excellent local facilities.
My husband and I have both been fully committed to improving our environment for many years. I was Principal of Downpatrick Nursery School when in 1994 we won the first ever Eco Schools award. We are also members of "The Centre for Alternative Technology" and held a promotional day here for them in 2004.Their magazine "Clean Slate" keeps us up to date on "green" issues. We both support "Keep Northern Ireland Beautiful" taking part in local litter picks.
We will continue to strive to be as Eco friendly as possible and further improve our carbon footprint.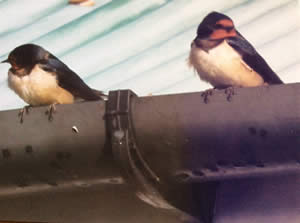 Our swallows photographed by one of our guests
We have further information on many activities and places to visit and maps for walking available for guests.
The Hill Cottage is a
Non Smoking Cottage